On February 1-8 2020, SBIS held its 17th Foundation Week with the theme: "A Successful Team Beats with One Heart." Students from Pre-elem, Elementary, Junior High School and Senior High School surely brought the mark of birth of their Alma Mater to its highest state of enjoyment and remembrance. These departments conducted various events, entrepreneurial booths, movie marathons, field demonstrations, cheering competitions and dance sport.
It started with the SHS and Basic Ed Department's Motorcade and Opening Ceremony. Students from the Integrated Basic Education which are divided into four teams, (Yellow Warriors, Violet Lakers, Red Rockets, and Green Boston) showed their support to their respective team mates by joining the parade during the motorcade event. The SBIS gym stood out vividly as students with their different team colored shirts occupied the place.
Several booths that are organized by students were formed to add more color to the event. There were carnival, movie, tattoo, and jail, and tattoo booth. The fun did not stop there! Because Basic Ed organizers also held their sports competition called, "Palarong Pambata" to entice students' interest in sports and compete to win the games.
For the Senior High School, ball games for exhibition were also organized such as Basketball and Volleyball. To further hype up the event, a pageant was conducted both in the Senior High School and Basic Education Departments.
Congratulations to the teams who won the exhibition games in their respective teams:
Violet Lakers – Volleyball Boys
Yellow Warriors – Volleyball Girls
Red Rockets – Basketball Boys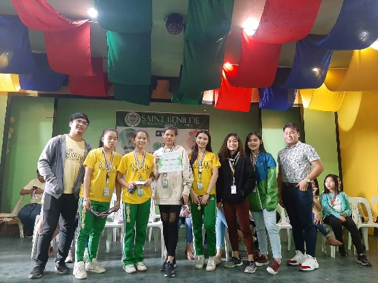 And Congratulations to Mr. and Ms SBIS of 2020:
Kian Bryne Fajardo
Felicity Mamplata
Students made the most out of the Foundation day not just for fun, but also, for celebrating another year of SBIS' successful celebration that paved way to these students to enjoy the qualities of the school and its services.
We look forward to seeing you on the next Foundation Day, future Benildian! Contact us
SBIS……. where we shape your future! Inquire now!