Senior High School
The Senior High School Department of Saint Benilde International School offers four Academic Tracks; Science, Technology, Engineering, and Mathematics (STEM), Accountancy and Business management (ABM), Humanities and Social Sciences (HUMSS), and General Academic Strand (GAS). In addition to this, Technical, Vocational, and Livelihood (TVL) Track is also offered with Majors in Electrical Installation and Maintenance and Shielded Metal Arc Welding. Saint Benilde International School – Senior High School prepares its students to their chosen career path by engaging them in glocalized learning strategies that will give them that extra edge when they go to college.
Junior High School
Saint Benilde International School – Junior High School brings cognition to metacognition. A higher level learning that promotes greater competence among its learners from Grades 7 to 10. Students of this program are involved in groups that may hone their talents be it in sports, academics, and/or arts. Passion for one's craft is greatly developed in this level to ensure stronger confidence on oneself towards their growing environment.
Elementary
The Primary Education of Saint Benilde International School offers a set of wonderful experiences to the learners from Grades 1 to 6. Learners from this program are exposed and engaged to lessons needed to set a firm foundation in their growing years. Questions from young minds are very well encouraged and discovery learning is implemented in the school to foster intellectual growth of the pupils.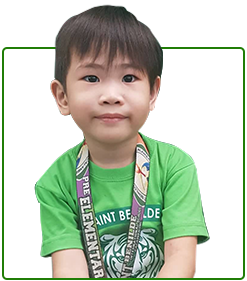 Pre-elem
Saint Benilde International School Pre-Primary Program offers real-world to classroom experiences to its learners from Nursery to Kindergarten. Children are encouraged to become logical thinkers and good leaders at a young age. Various activities that develop a child's growing mind is provided by the highly-experienced teachers of the school. At the end of the program, big improvements can be observed on the learners varying from dextrose ability to social interaction to intellectual growth.